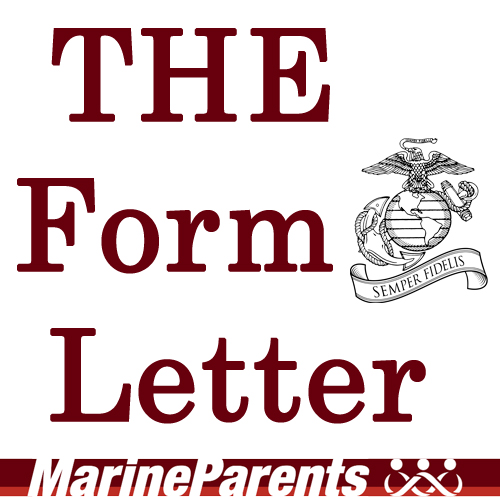 THE FORM LETTER-UNDERSTAND IT
Ok, everyone.  Black Friday is almost behind us.  NOW, they will all receive a Form Letter, as issued and Mandated by the Commandant of the Marine Corps. (Mind you he is way high up in the rare air in the Pentagon).
In it you will read such good stuff and info meant to soothe you, that your precious little children are going to be fine, and this task they seek to achieve is not all that difficult.....
And also,
If you have any questions or concerns, these are the names and numbers of their tender and most loving Senior Drill Instructor.
And Also, in the same (trying not to laugh) breath you will read that Your Recruits can get All kinds of good stuff, Like candy bars (Power Bars) and Gatorade and cough drops, and bobby pins, and .....
Isn't that Just WONDERFUL?  Isn't this going to just Be so Much Fun at Camp CUCKOOMUNGA, and aren't they so neat to let me call and check on my Recruit?  Oh, And let me Send my baby a case of his/her OWN peronal powerbars that he can share with his Friends if he wants to, because Number One I want To HELP MY RECRUIT.
OK.....
Now....
Let's get our tailfeathers out of Washington DC, and Back to The Ground OF Parris Island, South Carolina and MCRD/Camp Pendleton, Ca. 
As it ALWAYS IS, in the High places, and FAR AWAY from REAL, and with no concept of What it is truly like on the Ground, but quite cognizant of the press and public stances required.......
THEY ARE WRONG.  IT is A Form Letter.  ONLY.  It is not what Your Son or Daughter is Telling You (which is ALL that Truly Matters), it is What "They Say".
Now, having said that, no need to get upset, because it is also going to be okay, and they will do fine and succeed.  Not because of powerbars, gatorade bobbypins,or coughdrops.  They will be OK, ONLY because of the ONE thing, and ONLY Important thing the Form Letter does not mention:
YOUR LETTERS TO THEM.
Cut thru the crud.
YOUR LETTERS TO THEM.
MOTO.
Now, as to the rest?  The candy and such?
Wait until you hear from Your Recruit.
I know, everybody gets the letter and wants to run to Sams, and Buy a Hundred bars for everybody.....I WANT TO HELP SO MUCH......
NO.
Repeat:  NO.
Marine Rule One:  If you run to the sound of the guns you can get hit by Friendly Fire!
WAIT.
Ground Intel.
Each Platoon is run differently.  Each SDI KNOWS the BEST way to Make This Group of recruits into Marines.
And Each Group needs different things in order to accomplish that task.
Their Decision.
Solely and Completely.
Not the Pentagon, Not a "Manual", and certainly not the Opinion of any other human being on this Planet.
THIS is the Creed of the Drill Instructor:
http://www.recruitparents.com/bootcamp/dicreed.asp
United States Marine Corps Drill Instructor Creed
"These recruits are entrusted to my care. I will train them to the best of my ability. I will develop them into smartly disciplined, physically fit, basically trained marines, thoroughly indoctrinated in love of the Corps and country. I will demand of them and demonstrate by my own example, the highest standards of personal conduct, morality and professional skill."
In Honor and with the deepest respect, for those who I believe are the Finest Marines on the Face of this Planet; Who, together with their wives and family Suffer the Long Hours, and the MOST Unenviable Job in the Corps, as SDI/DI's and are considered veritable DEMONS (until the Very end when recruits become Marines and they UNDERSTAND) I would like to offer what I believe they Might Say, in their Own Words, if they were speaking to the Parents and Loved Ones of their recruits, if they were allowed, but it is not their way. 
(And Also, I would like to give this for my Father, an SDI at the time of his passing in 1962--what I think he might have said to me, as a Dad...) 
"I, and I alone, as the Senior Drill Instructor of this Platoon of Men or Women am 100% Responsible and Accountable for the Success of making These Recruits Marines.
I and my Fellow Drill Instructors are also 100% responsible and accountable for failing to detect and protect those that are NOT Marines, and that could in some future time DIE (yes, die) Because I Failed to recognize their inability or teach them what is necessary and required to Survive ANY situation, both Physically and Mentally.
I Hurt too much when I see one of "Mine" on the roles of those that go before us.
THAT is The Seriousness with Which I as Senior Drill Instructor, take MY Duty to your People.
And So It will BE MY WAY, since in the end, if I Fail, it will be OUR Tears.  Therefore I will be the One that decides what IS and Is NOT required.
I will be the One that will tell Your People what they can ask you for, not because a letter says so, but because I SAY So.
And IF YOU will Trust Me, and Believe in Me and OUR Corps, I will return to you, not a child, but a United States Marine."
So, please wait until your Recruit sends you a letter and KNOWS what it is they can have and Need.
If they don't need anything, Don't need to send anything.
BUT...Like I said.....at the beginning of this all,
DO SEND Your Letters.  Of faith and strength and pride.  Of Courage and Belief and words of God or man that show in times of incredible difficulty how it is their Personal Strength and WILL that shall get them thru this and ANYTHING.
For this is what they seek to Become: A Marine.  No small task.
A United States Marine
And a Marine gets thru it, because WE CAN.  It is What WE DO.  And We go on. 
And it is Hard.  So Incredibly Hard.  But, somehow, someway, no matter what it is, THEY get thru it.  And Go On.  And Become and ARE, on that Day of Days....
A United States Marine.  Always and Forever.
And Make em Laugh every now again, with a whack funny story, that is off the wall and too true to be made up.
Sometimes we REALLY Need to Laugh Too.
Long one I know, but I hope some get thru it all.
Call it the Words of an Old Marine with Young Marines on Board.
Semper Fidelis = Always Faithful
Respectfully,
WolfDragon
VPF/VPAF of 5 United States Marines