I wanted to share some poignant writings that came to my email box after the 1/5 Memorial Ceremony held at Camp Pendleton on November 4, 2011 upon their return from Afghanistan last fall.
From Joyce: a Marine Mom and manager of our PHHS-West outreach program:
Dear Tracy,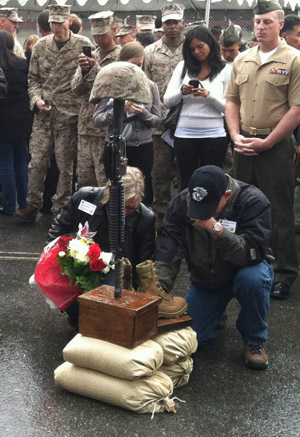 I don't know whether you would be interested in posting Buck's article, but he wrote it so beautifully I wanted to share.  It was a tough day, when we look back on it, it won't be the incessant rain that came down, it will be the stories shared with the Marines.  What an honor it was to be walking amongst these heroes.  Partway through the ceremony Amazing Grace started playing by the bagpiper.  The Marines began presenting the Gold Star families with bouquets of beautiful flowers.  The clouds parted, a rainbow was seen.  I will never forget that moment.  They were still with us, just giving us that small sign.  Rest in peace, 1/5 Marines.
Tracy, both Sgt Major K____ and the General thanked us profusely for the bookmarks and took several with them.  The remaining bookmarks went over with Juan G____, FRO for the 1/5 to the luncheon and were given out there.  As we were getting ready to leave the Parade Deck a little girl, appx 6 years old came over and asked if she could have a bookmark.  As she was reading through the names, I asked her if she was looking for someone specifically.  She said "My Daddy".  She showed me his name, Sgt _____, I told her he was my hero and gave her a hug.  I gave her several to give to her family, as she walked off to find her family. My friend Lottie and I looked at each other and the tears flowed.  God bless these families and the sacrifices they have made.
Joyce
From Buck, a Marine supporter and volunteer with PHHS-West:
Dear Joyce,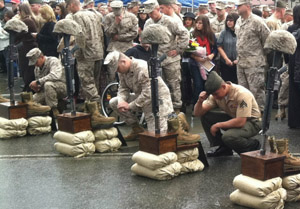 Marine Corps values ...honor, courage, commitment ! They are  not just words. They are a way of life for Marines.
I attended my second memorial service for fallen  Marines last Friday. Witnessing the sadness of a parent for a fallen son  or a young wife over the loss of her husband cannot be described in  words. Listening to a surviving best friend describe the virtues of a fellow  Marine breaks my heart.
I served briefly in the Navy from 1969-1972. I love the Navy  and I admire and respect all those who serve and served in other branches  of the military.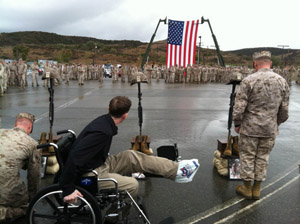 But, I must say our United States Marines hold a special place  in my heart. Perhaps my reverence comes from grade school when I learned of  the minutemen, like Paul Revere, or those cold and wet soldiers, huddled in  boats, following George Washington across the Delaware River ...those brave  men who fought the British for our independence. Whatever the source of my  admiration, I can say without reservation that the men and women in the United  States Marine Corps remind me of what's great about America.

Buck  
"The San Diego Union Tribune" link to the memorial  service:
http://www.marine-corps-news.com/2011/11/marines_remember_the_falle...